Stock Market Latest Updates
Latest Currency Rates
Notifications & Circulars
Services
Indian Council of Arbitration
Launching of Indian Council of Arbitration (I.C.A.) chapter at Merchants Chamber of Uttar Pradesh, Kanpur on 16th March, 2019 by Honorable Justice, Shri Govind Mathur, Chief Justice, Allahabad, High Court.
---
Introducing GST Helpline for Members
Merchants Chamber of UP, introduces GST helpline for its members.
Now if you have any query or concerns related to GST, then you can send in your queries to us, using our GST query form. Click to know more.
---
Distinguished Visitors
---
About Merchants' Chamber of Uttar Pradesh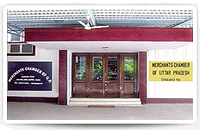 Merchants' Chamber of Uttar Pradesh is one of the oldest Industry and Commerce organisations of India and the first in northern India. Lala Kamlapat Singhania, the doyen of the Indian industrial and business community of the erstwhile United Provinces of Agra & Oudh set it up in November 1932. The aim behind this was to spread and put into practice the message of Swadeshi movement in industries and commerce in India during British rule.
---
Objectives »
The objects for which the Chamber is established are–
To promote and protect the trade, commerce and manufacturers of India and the interest thereof direct and indirect and in particular the trade, commerce and manufacturers and the interests thereof Uttar Pradesh
To consider all questions connected with such trade, commerce and manufacturers and the interests thereof
To promote or oppose legislative and other measures affecting in general such trade, commerce and manufacturers
To collect and circulate statistics and other information relating to such trade, commerce and manufacturers
---
Book Premises of MCUP for Events »
Merchants' Chamber of Uttar Pradesh has a beautifully architectured Sir Padampat Singhania Auditorium with its well designed soothing interiors & acoustics. It is ideal for AGMs, Seminars, Conferences and Cultural & Social Programmes. Along with Auditorium chamber also has Confrence Room and a Mini Confrence Room which can be booked